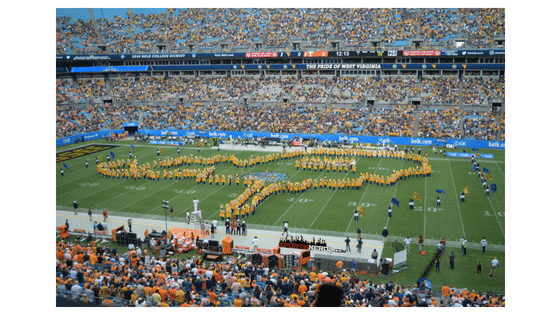 It's Will Grier's world, we're just living in it. The fifth year senior will need to stay accurate and precise this season. Not only for himself individually, but for the team as well. In what was the first ever meeting between these two schools on Saturday a lot of questions were to be answered, mostly on the defensive side of the ball. Everyone knows what Grier, Sills, Jennings, McCoy, and Simms are capable of, but the defense is, or should I say "was," a main concern coming into the game. A few questions were absolutely answered against a top notch opponent from the SEC. Tennessee isn't predicted to set the world on fire by any means this season, but playing in the SEC you face stiff competition repeatedly, which in turn gains you the most experience and gets you seasoned while the game slows down for you. But, on this day The Mountaineers from the BIG XII were that stiffer opponent.
I find it weird that these teams have never met before. All the years in existence, both are storied programs for the most part, yet they have never met on the gridiron. Back in the 1990's when Peyton Manning was at the helm for the Vols things may have been different. But, on this day there was a new sheriff in town by the name of Will Grier. His Heisman campaign kicked off on a neutral site, but a site that he calls home having grew up in Charlotte. When asked about all the hype he stated that "It is something you think about, but I'm just looking to go 1-0 every week." With an abundance of new weapons for Grier to use, the game played out in WVU's favor rather easily. With some questionable throws in the first half that could have been disastrous, Grier would lead the charge in the second half while calming down and making adjustments.
Tennessee would receive the ball to start the game. On their first play from scrimmage WVU forced a fumble that was ruled a backwards pass. Immediately momentum swung into a young WVU's defenses favor. The defense was swarming the ball and forced a 3 and out to start. WVU wanted to start fast by going no huddle. They would settle for a Field Goal on the first drive. The next drive for WVU resulted in a freshmen's first touchdown. Will Grier connected to T.J Simmons on a 59 yard strike to take the lead at 10-0 on a 5 play 85 yard drive in just 2:18. On the ensuing drive, Reese Donahue would get his first sack of the season. Tennessee would also be charged with a couple penalties that resulted in another punt. The Vols would come out in the second half after kicking the ball off to WVU. WVU couldn't get anything going to start the second half resulting in a punt. In what would be one of the best drives you will ever see, the Vols would close the gap on a 17 play drive that ate up 8:47 on a one yard touchdown pass. The score was 13-7 at halftime. During halftime a lightning delay of one hour and 5 minutes took place that would clear the stadium. These delays could go either way during most games, but it by far benefited the Mountaineers most. When asked what Dana Holgorsen did during the half he said that he "watched some football games, ate 2 bananas, had a cold beverage, then made some adjustments and let the team disconnect for a bit."
Coming out in the second half the Mountaineers would convert on a 3rd and 7 to Marcus Simms for 32 yards. The drive would result in a David Sills touchdown on a 4 play 68 yard drive. Another 4 and out for Tennessee would give the Mountaineers more momentum, as Grier connected with Gary Jennings on a 28 yard strike to take a 27-7 lead with 8:09 left in the third quarter. Yet another short drive of 7 plays, 60 yards. Tennessee would again get a rushing touchdown on their next drive to make it a 27-14 game. The Mountaineers would no longer allow another touchdown to the Vols in this one. Kennedy McCoy would then get in on the action catching a 14 yard pass from Grier for a touchdown to take the lead to 33-14. The extra point would miss. After another Grier to Sills connection the final score would look a little lopsided at 40-14.
As mentioned earlier, Will Grier would make a couple questionable throws in the first half that could have resulted in a turnover. Maybe it was pregame jitters, maybe it was playing in front of his "actual" hometown fans. Either way he would go onto a dominating performance. Spreading the ball around, not turning it over is a great way to start the season on a high note. Griers 429 yards are the most ever to be given up by a Tennessee team. The offense can move the ball on anyone, but the defense must keep their foot on the gas playing in the BIG XII where every game can be a shootout. WVU gave up 125 yards rushing on this date. WVU will return home this Saturday to take on Youngstown St. Game time is at 6:00
WVU Standouts- Will Grier 25-34 429 yards 5 TD's
David Sills 7 catches 140 yards 2 TD's
Gary Jennings 6 catches 113 yards 1 TD
T.J Simmons 1 catch 59 yards 1 TD