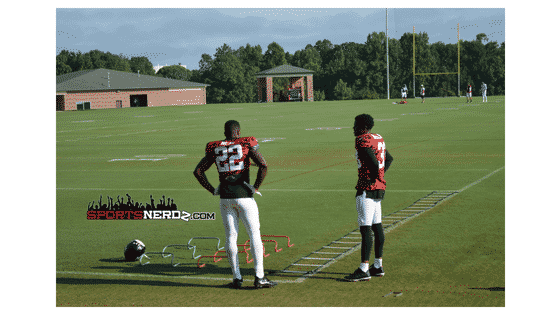 The year was 2018. The team was the Atlanta Falcons. Former laughing stock of the league, turned powerhouse. Be that as it may, I may be getting a little ahead of myself. But, the beginning may not be as far fetched as some may think. The Steelers had their decade, the Niners had theirs, the Patriots, so on, and so on. Whether you're a fan of the team or not, It's time to take notice. Matt Ryan still has plenty of prime years left. Not to mention, he just signed a massive contract to hang around for awhile. Julio Jones, Devonta Freeman, and the edition of Calvin Ridley are hungry to get over the hump and erase all of the naysayers. I had the opportunity to spend some time in Flowery Branch, Georgia to take part in Atlanta Falcons Training Camp for a few days. This is my two cents on why the Falcons are my strong favorite to win a Super Bowl in 2018. At home, nonetheless, to make them the first team to do so.
Now, I've been going to cover Training Camps for some time now. Some things that stood out for me during Atlanta Falcons Training Camp that may set them apart are as follows: Their camp has a higher intensity level than some others I have seen. Keep in mind when covering the NFL Preseason you learn that it is almost entirely up to the player to remain in shape during the off-season. Practices aren't filled with wind sprints afterwards. They aren't immersed and bombarded with up downs throughout. But different parts of practice are amped up a notch. The Falcons pump in music and crowd noise to get them ready for loud environments. Another thing that stood out? The Falcons work on every aspect of the game in practice. It's the little things, people!
As for on the field player aspects, the Falcons come into this year adding a piece on offense that will help them in the slot. With the departure of Taylor Gabriel, they will look to their first round draft pick Calvin Ridley. Ridley was a speed burner/clutch magnet at Alabama. The Falcons will look to use him in several key situations, as well as special teams possibly. Everyone knows what Julio Jones can do. As long as Julio stays healthy and stays on the field, he will draw several double teams in every game. Which in turn will open up Ridley, Justin Hardy, and Mohammed Sanu. Sanu will also look to fill in at slot receiver as well. Matt Ryan is looking for more red zone touchdowns this year. Last year was a dismal effort in the red area. Speaking to Matt Ryan after practice he said "The only way to get better in that area of the field is to rep it. That's the only way we will get more efficient." The Falcons have one of the best backfields in the league as well. Devonta Freeman and Tevin Coleman look to shoulder a hefty load of catches out of the backfield this year to help take some pressure off of Ryan. The question will be, who will be that third running back on the roster? Rookie, Ito Smith, will look to be the heir apparent to Tevin Coleman. Smith was the Falcons 4th Round draft pick out of Southern Miss. The Falcons look to compliment Freeman and Coleman by getting Smith the ball early and often this preseason to see what he's got. The Falcons also like to keep a 4th option at running back on the team as well. Free Agent Justin Crawford out of West Virginia has impressed this training camp with his size, speed, and awareness. The main thing to be excited about this year in Atlanta is the buffet at Tight End. Austin Hooper will look to have more catches this year, all while establishing himself as a great 3rd down/red zone option. Atlanta will look for him to become what Tony Gonzales was for a few years in Atlanta. Matt Ryan also stated when speaking about Hooper "that guy will literally meet me anywhere to catch some balls!" He also stated that Hooper "has a hunger to get better. He would meet me behind a dumpster if need be to run some routes!" Newly acquired, Logan Paulsen, and an intriguing option, Eric Saubert, could be huge for Ryan as a security blanket as well. As long as the offensive line protects Ryan, Matty Ice could set up shop in the Shotgun to pick apart defenses.
On the defensive side of the ball things continue to trend upward. Everyone is healthy, the chemistry is getting better, and Keanu Neal is one of the hardest hitters in the league. Damontae Kazee absolutely flies around on the field. Ricardo Allen is relentless in everything he does. The linebacker core is what sets this group apart on that side of the ball. They're the driving force behind Atlanta's success to shutdown other high powered offenses. Deion Jones has already established himself as one of the best. He and De'Vondre Campbell are two of the most athletic linebackers in the league. Duke Riley is continuing to get better every day as well. This group of defenders are young and unproven, but I believe most will be a household name by years end.
So with all of this said, is 2018 a "Super Bowl or bust" year for the team? It may seem that way, but this team is young, locked in on contracts, and still fuming over the 28-3 debacle from a couple years ago. Look for the Atlanta Falcons to show up on your radar this year.
Written By: Joshua Petry