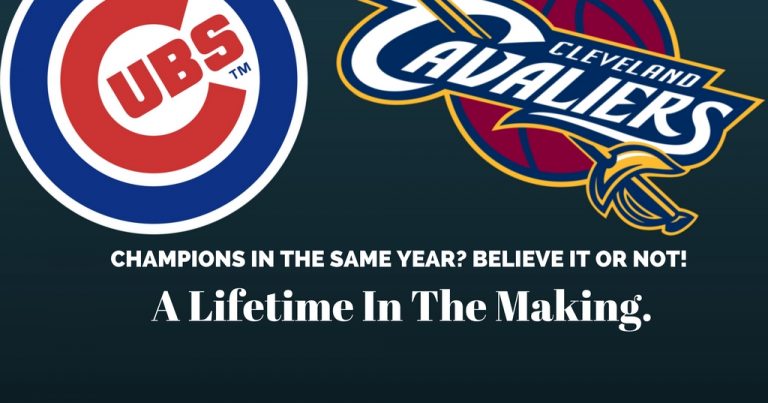 I was alone, scared, and miserable in the sports world as a Chicago Cubs and Cleveland Cavs fan until the year 2016. Hope wasn't always attainable, in fact, the outlook looked grim for many years; LeBron leaving Cleveland after revamping the team, the whole Bart-Man fiasco, goats, curses, all of it came year after year for a Cubs and Cavs fan. Then a few years came where there was hope, the future looked bright, young talent was on the way, but as a fan of these franchises you couldn't wait any longer. We'll get to that, but first let's look back in time at how my madness/fan boy appeal came for these doomed teams.
The year was around 1988-89. I was 6-7 years old at best. Coming home from Elementary school (where I grew up on side of the mountain) was tough. I had zero friends within a few miles, so getting people to come play was a stretch at that age. Outside of my Nintendo, I found myself in the friendly confines of Wrigley Field during the afternoon from my TV set, you know? The one with like 6 channels? I would escape with the team every home game and feel as if I was taking the field with Andre Dawson, Ryan Sandberg, Shawon Dunston, Mark Grace, Greg Maddux, etc. It seemed as if every game was played in the day. Side note: Wrigley Field didn't get lights until August 8 1988. I watched the Cubs and Reds with my dad even at an earlier age, but this is when I really got into it. The story of when I was hooked on Cubs baseball is short and sweet. It was a day game (of course). The Cubs were playing their cross-town rival, the Chicago White Sox. The Cubs would come out hot and score 7 runs in the 1st inning if my memory serves me correctly. From then on it was history. Learning of the curse, being disappointed year after year was all part of the fandom. Through the years of having these stars I mentioned earlier, as well as guys like Derek Lee, Moises Alou, Aramis Ramirez, Ryan Theriot, (forgot about him huh?) You often wondered, "is this the year?" Well, sadly no it wasn't. Then a gentlemen named Theo Epstein "had a plan." Leading the Boston Red Sox to a World Series title after 80 plus years among a couple more Cubs fans put their trust in him. Theo would say that he had a plan, and we would have to be patient. "Well damnit Theo, I want to win now. I don't have 5 more years." I'm sure this was every fans thought process. The club starting building and building and building some more through the draft and the farm system. Names like Anthony Rizzo, Kris Bryant, Javy Baez, Addison Russell would look and play more like veterans on the field. The potential was there. You could see it in the clubhouse and on the field. Things progressed and transpired on the field that just felt different this year to Cubbies fans. Being the winning-est team in baseball happened, having the best rotaion in the league happened, all things that have that championship resume to them.  Then the year 2016 and the World Series was upon us. As only the Cubs could do, we fell down 3-1 in the World Series to the Cleveland Indians who had a hell of a ball club. Also, as only the Cubs could do, we filled it to the rim with drama. The series was 3-2 headed back to Cleveland. The series was tied 3-3 going into game 7. This was it. It was now or never. Knowing this team and who was on it you are certain that they would make a return, win or lose. The fifth inning of game 7 came, and we were up 5-1. The Indians would tie the game 6-6 in the 8th inning. Rain delays and extra innings couldn't stop us. We were destined to win, and that is in fact what we did. I say "we" because I can, I've been a lifelong Cubs fan for 34 years and counting. The wait is over. We're now World Series Champions in 2016; 108 years since our last title. The curse was lifted. Wanna hear something crazy? My dad is a Reds fan! This makes it a little sweeter, although he does likes the Cubs. He has had plenty of success with his ball club, now it's my time to brag! It's been 48 hours and "Go Cubs Go" still rings loudly in my head. May we Fly That W FOR LIFE!
Around the same year, the NBA was in (what I believe) was it's prime; Michael Jordan, Larry Bird, Hakeem Olajuwon, David Robinson, the list could go on for days. A team that was only about 3 hours from me gained my attention with names like Mark Price, Ron Harper, Larry Nance, Craig Ehlo, and Brad Daugherty, not to mention one of the most respected coaches and people ever to roam an NBA sideline (Lenny Wilkens). I would watch this team on TV for years. Being close to us, they played a good amount on our local channels. Around 1999 I made it to Cleveland for my first ever game in person, and boy those were the days! Andre Miller, Trajan Langdon, Big Z, Lamond Murray, and Wesley Person. To see these names on paper may not mean much, but these teams were scrappy. The team just wasn't ready to compete. I'll never forget my first 5-10 games in the old Gund Arena. You could hear a pin drop because it seemed like around 112 people showed up. Barely winning 20 games, year after year, it was time for a change. In the early 2000's we started to hear of a kid names LeBron James out of Akron. He was suppose to be the next Michael Jordan, they said. In 2003 the Cavs drafted this guy with the first pick in the draft. Things were looking up already. His first game was against the Sacramento Kings. He looked as if this is where he belonged. He looked like a 1 in a century type talent. Over the years the team would continue to build around. They reached the NBA Finals in 2006-7 against the Spurs. Cleveland was outmatched being swept 4-0. The future looked bright. I was ecstatic just to reach the NBA Finals. Cleveland needed the hope as well. The team continued to improve year after year. Bigger names in the sport wanted to come to Cleveland! They wanted to come to Cleveland for gods sake! This was a victory in itself, but Cleveland was sexy. Then LeBron left. The comparison's of betrayal would come in the name of Benedict Arnold. How could he leave us to go to Miami? You're from here! LeBron would win 2 championships with Miami. The rest is history. Then he came back home. He stated that he needed to leave to see what home really meant to him. Deep down I always knew he would return, and boy did he return with a vengeance. He took this team to the NBA Finals in 2015 against a loaded Golden State Warriors team. LeBron couldn't get the job done by himself. Then, as I previously stated, the year 2016 happened. The Cavs would make it to the NBA Finals in a re-match against those damn Golden State Warriors again! Falling down 3-1 in the series (I know, story of my life!) they would storm back and win the NBA Finals for Cleveland who had waited years and years for a title in anything.
Needless to say 2016 has been a great year for me, (the greatest actually) for my teams. I never would have thought that I would see these two lovable loser franchises of mine get over the hump, especially in the same year! Now, in case you were wondering, my NFL team is the Atlanta Falcons (also lifelong). We have made it to 1 Super Bowl and lost, so let's not open that wound! I end by saying this. "Atlanta Falcons, you're up!"
Written By: Joshua Petry