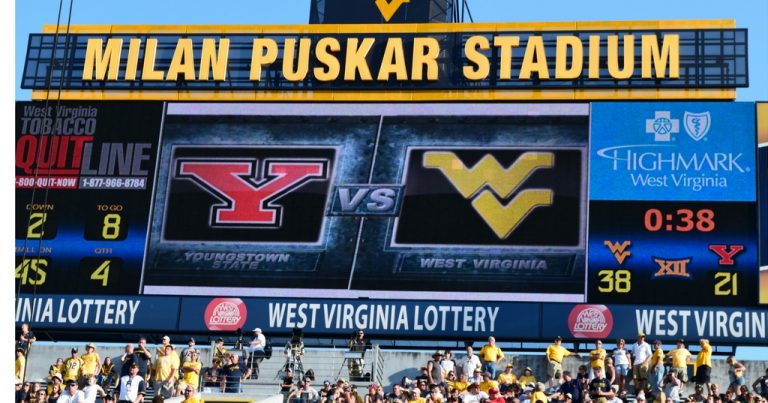 The West Virginia Mountaineers took the field against the Youngstown State Penguins Saturday afternoon in Morgantown. To the naked eye, the nickname "Penguins" may not seem too intimidating on paper, but they were fiesty on the field. With a great coach like Bo Pelini in his second year with the school, and former Ohio State legend Jim Tressel (YSU President) you can rest assured they would be ready to play. Already a leading program in the FCS winning four National Championships, Youngstown St. looked to come in and compete, be physical, play fast, and command respect. WVU may have been overlooking this team a little, especially in the first half.
The on-field temperature at kickoff was pushing a hundred degrees. WVU would intend on keeping the heat on YSU by playing up-tempo to start the game. WVU would get the ball and start on their own 25 yard line. After 3 first downs on the drive a Skyler Howard pass would be tipped by Eric Thompson for a WVU turnover. YSU was able to move the ball a little, but stalled on the drive trying to find points. On YSU's second drive, the receivers made a couple nice grabs, but more of the same in having to punt the ball. In punting the ball, YSU's punter Mark Schuler would boom the ball having 2 punts for 110 yards with an average of 55 yards per punt. With 3:16 left in the first quarter Skyler Howard would redeem the team by finding Ka'Ruan White for a beautiful 53 yard touchdown to put the team up 7-0. Also in the first quarter, WVU Corner back Rasual Douglas would pick off YSU only to be called back for a pass interference call.
In the second quarter, YSU would find the end-zone on a 1 yard rush by Martin Ruiz. YSU moved the ball down the field finding guys on several slant routes. With 10:13 left in the 2nd quarter YSU Quarterback Ricky Davis found a streaking Alvin Bailey down the left sideline for a 74 yard touchdown. Not to be outdone, Skyler Howard finds an open Shelton Gibson for a 54 yard touchdown with 3:15 left in the second quarter. The score at the half was all locked up at 14 a piece. Mike Molina missed a 30 yard field goal to end the half which would have put WVU up 17-14.
In the third quarter, WVU knew it had to quit playing around and put this team away before a turnover or two put them right in the game gaining confidence and momentum. Skyler Howard would find Gibson on another bomb down the sideline for 45 yards with Gibson getting tripped up at the 29 yard line. WVU would continue on with Howard finding Daikiel Shorts in the back of the end-zone on a pretty fade route. The call would be reviewed on what appeared to be Shorts toes touching the white. The call would stand on the field ending in a touchdown, which ended a 9 play 86 yard drive. Molina would hit a field goal to put WVU up 24-14 with just under 3:00 to go in the third quarter. Rushel Shell would score a touchdown previously to this, but it was called back due to a hold. With 1:40 left in the third WVU would start to feel a little more comfortable with Howard hitting Gibson for yet again another beautiful deep ball for a 57 yard touchdown to put them up 31-14 after three.
Into the 4th quarter, YSU would strike first with a Trent Hosick 15 yard rush to make the score 31-21. Three minutes later Skyler Howard would throw for his 5th touchdown of the day finding Kennedy McCoy wide open to make the final score 38-21.
Even with the win, Tony Gibson was not pleased with the effort saying that "we got out coached and out played." Gibson went on to say that "they controlled the line of scrimmage, everything we warned them about all week." Head Coach Dana Holgorsen praised Youngstown St. by saying "nothing that happened today surprised him. They are very well coached and a number of their guys could play here." Holgorsen would also say that "they're a lot of college football teams that would have lost this game today, but we made some halftime adjustments and I'm happy to come out with a win." Skyler Howard stated after the game that "we were getting dominated at the line of scrimmage, we also weren't efficient in the run game." WVU got the win, but some adjustments still need to be made to compete for a Big 12 title. WVU gets a week off this week before traveling to Landover, Maryland to take on the BYU Cougars at the Redskins home field.
Standout Players for WVU- QB Skyler Howard- 20-33 389 yards, 2td's, 1int
WR Shelton Gibson- 6 catches- 171 yards, 2td's
WR Daikiel Shorts- 6 catches- 93 yards, 1td
RB Rushel Shell- 16 carries- 84 yards