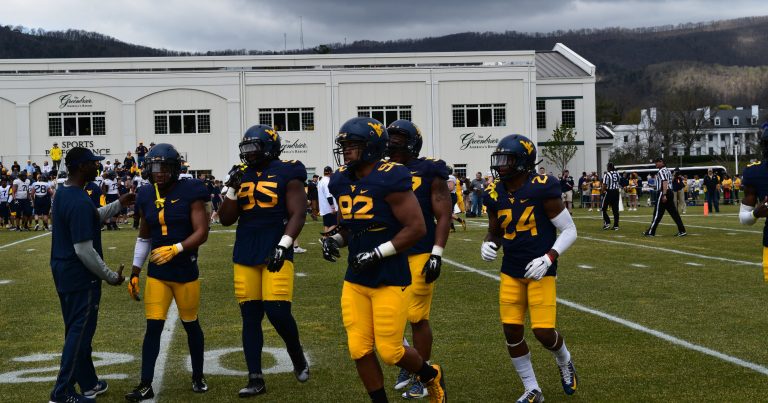 WVU is SEXY! Okay, maybe Steve Harvey uttered the words "West Virginia is sexy" instead but, you get my point. Let me explain. Athletes striving to play at the Division 1 level want their cake, and they want to eat it too. WVU can be "cute" at times for these athletes, but not sexy. When choosing a school most 18 year old kids want the glit and glamour of the college experience. In West Virginia, you will get plenty of national attention. You just won't find oceans, professional teams to attend games and pose for pictures, etc. WVU is rich in the history of winning in many different athletic sports at the University. Here is my top 5 reasons why you should play at WVU.
1. Loyalty And Support, Tradition Of Winning: If football is your fortay, you would be hard pressed to find a better, more loyal fan base. Yes, they can get a little rowdy at times, or passionate, depending on whether your glass is half empty or half full. The football teams all time record stands at 727-482, pretty impressive, huh? Basketball maybe? The men's basketball team has won at least 20 games in 9 seasons since 2005. Bobby Huggins is also one of the winning-est coaches of all-time! The women's basketball team has had at least 23 wins in 6 of the last 7 seasons. The rifle team has an astounding 18 national championships! Three national championship winning wrestlers. The baseball team continues to amaze year after year sending over 20 players to the majors, along with making 11 Tournament appearances. It's a tradition of winning all around. You may not have a beach, you may not have a big city, but you will have a hometown that backs you with every ounce in their bodies!
2. Low Unemployment Rate in Monongalia County: Not all student athletes make it to the next level. Some have to find a 9-5 after graduation, because they weren't one of the lucky few that signed a free agent deal, got invited to the draft, and invited to spring training. Many athletes even after their careers are over find themselves back in Morgantown. It's a great place to live. The unemployment rate in Monongalia County stands at under 5%. Which means that the doctors, lawyers, engineers, etc. will have jobs waiting for them when they graduate. With the hospital almost right on campus, numerous power/chemical plants in the area you can take your skills to the next level in the workforce. Finding a place to live isn't a problem either. Morgantown is plentiful with apartments and townhouses to house professionals. If need be you could even make the short commute over into *cough cough*, Pennsylvania. Also, the personal rapid transit system is free to commute! This is a favorite among students.
3. Country Roads Is A Tradition Like No Other: Win or lose Students bound together arm in arm to sing the University's theme song "Take Me Home Country Roads." A tradition that dates back all the way to 1972. Their are no words to describe this subject. You want in on the tradition? Sign that letter of intent!
4. The WVU Marching Band: I firmly believe that the bands are what make the athletic events in high school and college great. But to hear the award winning/greatest band in the nation play before and during games, all while forming the outline of the state midfield? Man, it's a sight to see!
5. Top Notch Competition In The Big XII: If you want to go to schools like Pitt, Louisville, Florida State, LSU, have at it. If you wanna come and compete for a starting spot against top talent and prove your worth, earn your respect, be a hard nosed athlete, and take life lessons away from the game, come to WVU. Teams like Baylor, Kansas State, Oklahoma, Kansas, TCU, Texas are going to give you there best on the court, field, etc. WVU has a tradition of winning. The Big XII conference is slowly solidifying itself as a top two conference to compete in. Sending teams every year deep into title contention.
Honorable Mention: Have you had a pepperoni roll? They originated right down the road from Morgantown in a town called Fairmont in 1927. You should probably ignore everything else I've said and take me up on my advice to try one. Let the deciding factor be this, you will not regret it! Ready to commit?
Written By: Joshua Petry