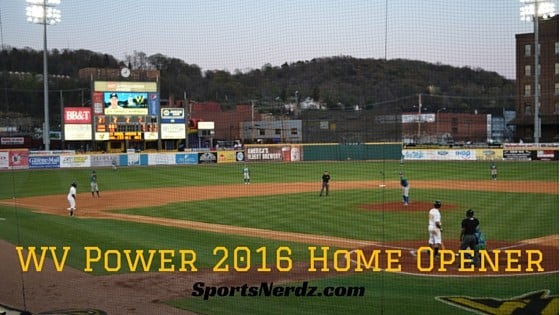 In one of the most beautiful parks in all of Single A baseball, The West Virginia Power took the field for their home opener of 2016. The opponent being the Lexington Legends, a minor league affiliate of the Kansas City Royals. Months before Appalachian Power Park opened the gates in 2005, a lot of questions surrounded the team. Questions like, why did home plate not face the Capitol? What will happen to their old ball park Watt Powell? Will the team thrive being downtown versus on the outskirts of Kanawha City?
Appalachian Power Park, eleven years later, is a thing of beauty. This season could be their best season yet. Different faces from different places, and all walks of life. The Power have started to put the bat on the ball more often. They have speed, and are very athletic. Power pitcher, Bret Helton, took the mound on Thursday night against the Legends having pitched five scoreless innings in his previous start a few days earlier against Greensboro resulting in a no decision. He looked for a similar result on this night. Helton would continue his hot pitching by throwing another five scoreless innings of one hit baseball before being pulled due to pitch count. Helton would earn his first win of the season.
Tito Polo, a standout outfielder for the Power who is riding a six game hit streak, started the season just missing hitting for the cycle going 3-4. Polo, while hitting well over 300, is seeing the ball really well. Catcher Christian Kelley went 1-4 on the night with a clutch two run double. Kelley has a knack for working the pitcher into deep counts, forcing him to throw a lot of pitches in at-bats. There are a lot of bright spots on the roster for this years Power baseball club; very young, but very talented. With the win Thursday night the Power improved their record to 6-2 on the season. Lets hope the Power keep clicking on all fronts this season, and make a deep run in the playoffs. They take the field Friday night against the Legends at 7:05 with post game fireworks to follow.
Written By: Joshua Petry